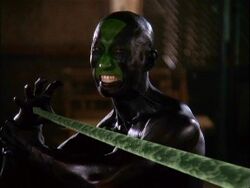 Scavenger Demons are low-level reptile-like demons that feed of the remains of other demons and their prey. They are covered in green ectoplasm. They are very elusive and prefer to avoid confrontation. Scavenger Demons live in nests within their own territory. They can read and write and speak in a slithering tone.
Phoebe Halliwell and Cole Turner once tracked a Scavenger to an alley, where it grabbed Phoebe with its webbing. It was vanquished by Cole with an Energy Ball, covering them both in green ectoplasm.
Decades later, Wyatt and Chris cleared out several nests of Scavengers. One almost killed Wyatt until Chris vanquished it with a potion, covering Wyatt in ectoplasm.
Powers and Abilities
Edit
Active Powers
Appearances
Edit
Charmed Season 4, "Black as Cole"